Diary 2001
I kept a diary every day from March to July. Go to www.eastpenrest.freeserve.co.uk/foot-and-mouth.htm for the pages.
I am now keeping a farm diary, again. It is mainly about the farm itself. There will be some comment on politics and politicians, but not as much, since www.warmwell.com is doing such good work in keeping us informed.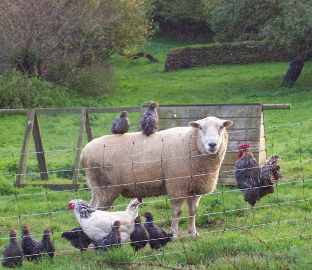 Perky the ram with chicks.(picture taken 2.11.01, just before he went in with the ewes)
There will be lots of pictures of our animals. Click on links to different pages.
It was unrealistic to think I would keep this up with christmas preparations and family at home. I am just off for the weekend to celebrate my birthday. I will catch up when I return. Happy New Year to everyone. I hope 2002 is better in every way to 2001.
December 10
November. 18 19 20 21 22 23 24 25 26 27 28 29 30
Animal Health (amendment) bill EXTRACTS: 21. Clause 4 confers on the Minister the power to cause to be slaughtered animals because they have been vaccinated against FMD or other animal diseases specified by order. Subsection (3) provides a power to take any action required to slaughter the animals or required in connection with the slaughter....that the new power may be exercised whether or not the animals concerned are affected or suspected of being affected with the disease, have been in contact with affected animals, or have been exposed to or vaccinated against the disease. ...Clause 7 inserts a new section 62A into the 1981 Act to provide a power of entry for the purpose of ascertaining whether any power to cause animals to be slaughtered should be exercised and for the purpose of doing anything in pursuance of the exercise of that power.
Ask your own MP to attend the meeting warmwell and others have called. It will explore the Animal Health bill and make very clear objections to it that have not been highlighted in the media and which may not have occurred to some MPs.
29th November.
Animal Health (amendment) bill Parliamentary lobby and Meeting inside the House of Commons
"To explore concerns raised about the Animal Health (amendment) bill"
1.30 - 3.00 p.m.
A panel of expert speakers to whom questions may be asked after each short presentation.
~ legal aspects of the bill's new powers
~ the position in which veterinary surgeons are placed
~ the inclusion of all species whether or not they are affected by disease
~ biodiversity in the potential loss to rare breeds in slaughter policies
more details here ~ ~ A solicitor's view
One of the reasons, recently, for not keeping up with my diary, was the birth on October 20th of our grandson, Mary and Richard's son, Christopher. Here he is at 24 hours old.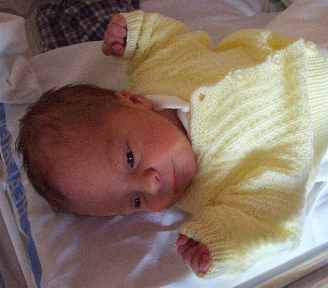 Previous pages, from February 1999 are on www.eastpenrest.freeserve.co.uk/diary1.htm