Farm Diary
November 19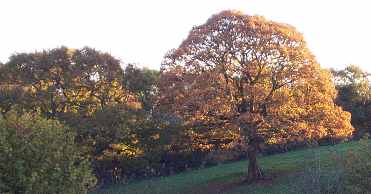 evening sun on the oaks in Slade
It's been another lovely Autumn day, if a bit hectic. Looked out of the kitchen window as I was boiling the kettle to see our wether (a castrated ram - he should have gone for lamb chops but he was bottle fed and very tame and somehow managed to miss the trip to the abbatoir), up in my flower beds. He had been in the orchard with 2 shearling rams and they were nowhere in sight. When I couldn't find them at once I was very anxious lest they had got out on the road. Our gate was knocked down (plus the stone gatepost) a couple of weeks ago and the repair is taking a bit of time so there was nothing to stop them. I went out in the car to check quickly that they were not trotting down the road, horrible visions of £5,000 fines, and criminal prosecutions filling my head. In former times I would have stopped people to ask if they'd seen them, now I didn't want to advertise that I might have sheep making an illegal movement . I was very relieved when a second, closer, look into the nearest field above the house showed that they had pushed through the electric fence to join one of the 3 flocks of ewes.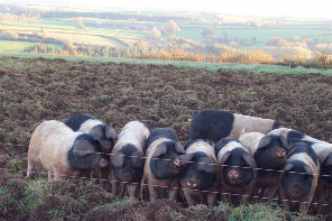 The young boars have been ploughing up Broom Park

It took a while to seperate them from the ewes, as they did not want to leave them. Then someone came to look at the pigs, and he said they looked good but could wait till James got back. We discussed the difficulties of AI for sows, and the impossibility of hiring a boar with the new government regulations on movements. I'd be sorry to see our sows go, but wonder if it's going to be possible to keep on with them. Then Gussie escaped. It took a lot of pushing and coaxing to get her back. Why does this never happen when James is here?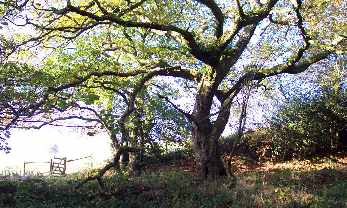 Oaks on the edge of the woods still have green leaves.