Foot-and-mouth Crisis
IT ISN'T OVER
Animal Health (amendment) bill EXTRACTS: 21. Clause 4 confers on the Minister the power to cause to be slaughtered animals because they have been vaccinated against FMD or other animal diseases specified by order. Subsection (3) provides a power to take any action required to slaughter the animals or required in connection with the slaughter....that the new power may be exercised whether or not the animals concerned are affected or suspected of being affected with the disease, have been in contact with affected animals, or have been exposed to or vaccinated against the disease. ...Clause 7 inserts a new section 62A into the 1981 Act to provide a power of entry for the purpose of ascertaining whether any power to cause animals to be slaughtered should be exercised and for the purpose of doing anything in pursuance of the exercise of that power.
Ask your own MP to attend the meeting warmwell and others have called. It will explore the Animal Health bill and make very clear objections to it that have not been highlighted in the media and which may not have occurred to some MPs.
29th November.
Animal Health (amendment) bill Parliamentary lobby and Meeting inside the House of Commons
"To explore concerns raised about the Animal Health (amendment) bill"
1.30 - 3.00 p.m.
A panel of expert speakers to whom questions may be asked after each short presentation.
~ legal aspects of the bill's new powers
~ the position in which veterinary surgeons are placed
~ the inclusion of all species whether or not they are affected by disease
~ biodiversity in the potential loss to rare breeds in slaughter policies
more details here ~ ~ A solicitor's view
--------------------------------------------------------------------------------

I started keeping a diary on the 28th February, trying to let people know what was happening on farms throughout the country. I kept it up for 5 months, and the links to the different pages are below.
There is now a lot more information available. The best site is www.warmwell.com where Mary critchley is doing brilliant work putting up all the relevant information, including Alan and Rosie Beet's email newsletter (which you can have emailed direct to you). I have not been feeling the same compulsion to get information out to people, so my energies have gone into the farm and family and in writing letters. I will carry on putting up a farm diary, but it will not be serving quite the same public information purpose. If you are interested in the farm, look here. To Farm Diary 2001
Most of these Foot and Mouth pages start with the earliest date at the bottom of the page.
To earliest pages (starting 28th February)
To pages starting 29th March
To pages starting 5th April
To pages starting 15 April
To pages starting 1st May
To pages starting 1st June
To pages starting 1st July
To pages starting 1st August (Not much here).
To Links page with more information on Foot and Mouth issues.
Tony Blair on 3rd May at a Press conference ".....as we enter a new phase, hopefully with the Foot and Mouth disease now on the home straight, being clearly under control........perhaps, perhaps I can just give you these facts because again this is a particularly important for the foreign media. ...........And as I was telling a, a meeting a couple of days ago something like fifteen million chickens a week in Britain are, are killed. So I just think it is important to put that in context and realise that if you take, not merely the infected farms but the affected farms, it is still a very small percentage of the over all livestock industry in the UK. "
Since ths statement, there have been more than 1,500,000 more animals killed (a total of more than 4,000,000 animals - not counting calves and lambs or those on the 'welfare cull' - ), and another 2,555 farms have had their livestock killed (a total of 9,421 - though this number is still being changed - ). More than 12% of all livestock farms in the country. Now they have brought an Animal Health Bill before parliament which is being passed rapidly. It will make it easier for them to kill any animals for any reason. As yet, it doesn't cover human animals.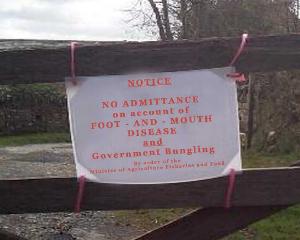 I know this must seem a very clichéed picture to most of you. But when it's your farm it's anything but a cliché.
"Through DEFRA's continued policy of quality assurance of the Disease Control System (DCS) Database, it was noted that the number of slaughtered animals in the 'other' category seemed excessively high. Of the 15, 000 'other' animals slaughtered, approximately 6000 were chickens and have been removed from the DCS database as they are not a foot and mouth disease susceptible species. These animals were slaughtered for welfare reasons and these records are kept separately. Of the remaining 9000 animals, approximately 7,500 were lambs." There are now 300 'other' animals listed. We are not being told what species the 1,200 animals were that have also been removed from the data base. Neither are we told why 6,000 chickens were killed, though the quote from Tony Blair might be relevant.