Farm Diary
December 10
James has been back for more than a week. It's hard to believe now that he was away for two weeks. What's been happening? Tom came down on Friday night for the weekend. He hadn't been here since the summer. He's adjusted well to being an uncle!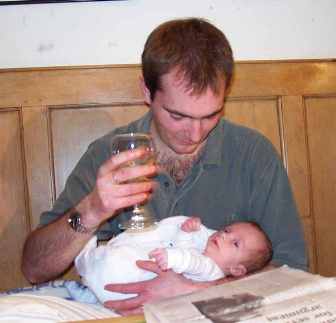 Mary left on Tuesday, came back on Thursday, left on Friday again. I've had lots of time with Christopher. He's even been on my lap whilst I've done some work on the computer, but everything takes much longer! One of Mary's godfathers sent her money to buy some champagne, so we toasted Christopher on Sunday. Thank you Chris!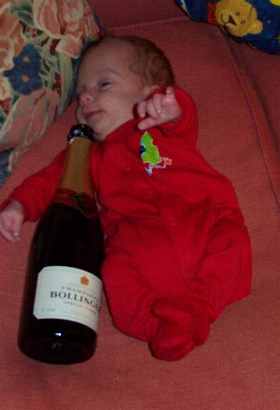 The boar pigs went on Tuesday. They had to go all the way up to Cinderford. We borrowed Neil's trailer and they looked quite snug and happy in it. I did feel a pang though as I rubbed behind their ears before they left. Pat and his brother took them.
Nothing much has happened on the farm. Just the usual busy routine things. Everything needs feeding now, even out in the fields. Andrew should be off in a few days, and then the heifers that are keeping him company in Slade can go down with the bullocks in the wood.
It was the Christmas meal and entertainment in Trebullett Chapel hall on Friday. This year it was the men's turn to do the cooking and serving and the women's to do the entertainment. Fortunately James hasn't cottoned on to the fact that virtualy all the other men get their wives to do their share of the cooking. James made a realy good chocolate mousse and a pan of mashed potatoe.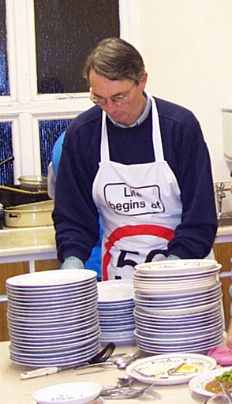 James helping with the washing up. Fortunately he took some pictures with the lens cap on, so there is no record of me making a fool of myself in flippers, mask and snorkel with a collapsing umbrella! It was a good evening.
Saturday was the most glorious day. We were sitting outside for coffee. It has been clear and bright with wonderful sunsets followed by bright starlight.
Sunday afternoon, Neil's youngest, Georgia, was christened. James is godfather. We went back to their farm for a feast of their delicious ham and beef and pasties.