Farm Diary
November 24
It is still incredibly mild. It has been cloudy, but not overcast like yesterday, wonderful varied dramatic clouds with glorious bursts of sunlight when the trees almost catch fire. I'm frustrated by the way my photos are toned down in this programme. This picture
is looking as if I've put a grey wash over the original. Anyone out there able to tell me how to correct it? I'm using Dreamweaver. Any advice gratefully received.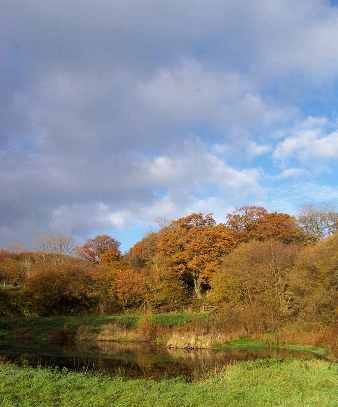 Gabriel went to a local community farm to help make advent wreathes for their craft fair. I went with my mother-in-law in the afternoon. Basill Manor is a mediaeval farm house a few miles further up the Inney. It is an amazingly beautiful place. It has been set up "to promote the welfare of mentally retarded and of emotionally disturbed persons of all ages in accordance (so far as practicable or desirable) with the principles of Rudolph Steiner." We arrived in time for some carol singing and bought some beautiful pottery and a magnificent wooden rake (too beautiful to use, even the handle is handmade). There were some lovely wooden toys, but Christopher is still a little young for wooden trucks and tractors - tempting though!
I got home a little late (Gabriel was staying on and coming back on his bicycle) and went straight out to feed the animals. The cows were shouting at me impatiently. It was dark by the time I went to the last two fields of sheep with their hay. The clouds were low, now, and reflecting a little light, so I didn't need to use the lights on the quad as I went up Corner Park with the dogs running ahead. Beautiful.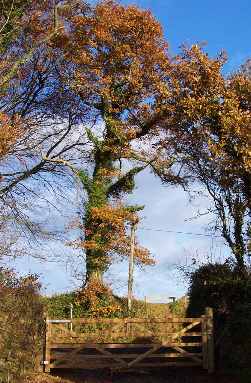 Here is the new gate, James, that was hung yesterday. It will look better when it has weathered a bit. The old gatepost that was knocked down and broken took a lot of digging out. Taking it out took much longer than putting the new one in.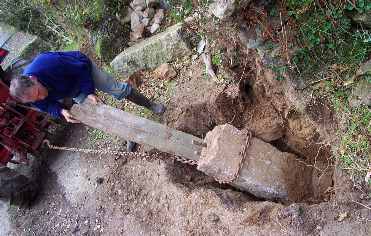 Here Pat and James are pulling it out with the tractor, 2 weeks ago, after Pat had dug all around it.
It's funny, before FMD we only ever shut our gate when we were moving animals through the yard, just in case they went the wrong way. Now, for the few weeks we've been without a gate, I've felt very vulnerable. It's good to have a gate to shut again. It feels very sad to need to put a barrier up.
I read An Ill Wind by Katrina Porteous with tears running down my cheeks. Paul Stanbridge had put a link to it on his excellent farm diary page. Read her reflections too. Excellent.
I was talking with a farmer last week who had all his cows killed (they weren't infected and were never likely to have been). He was saying how he had never realised before how deeply his life and his beliefs were tied up with the cycle of the farming year, with being so closely involved with, and part of, Nature. He's not sleeping well now. He won't restock. He knew all his cows (they were great great granddaughters of cows he'd had when he was young), and they knew him. "I couldn't have that back, so why start again?"