Farm Diary
November 20
I was out all day today. I went to the AGM of Farm Stay UK, which is hosted by Cornwall this year. It was wonderful to see so many people from around the UK. I spoke to lovely people from Northern Ireland, Scotland, Cumbria, Surrey, Northhamptonshite, Worcestershire and many more. It was a very positive meeting. As Farm holiday providers we do have a unique product. Beautiful houses in wonderful locations, acccess to good local produce, a fantastic support network and referal system. Sorry about the advertising , but it was really good to feel part of such a good group. I actually only joined the UK group about 6 weeks ago (I've been a member of the Cornish branch for a while see www.cornwall-farms.co.uk ). If any readers are farm holiday providers of quality accommodation , it's well worth joining. Anyone interested look at www.farm-holidays.co.uk . I'm not on the site yet, as I haven't got round to giving my details.

I was in a rush leaving this morning so didn't have time to take a photo of Gussie and Gertie. They were looking wonderfully happy under the oak trees in Slade, having escaped from their electric fenced enclosure. Unfortunately they were also digging up the pasture and the organic standards do not allow us to ring their noses to stop them digging. So they can dig, but have to be restricted to the smaller areas that don't matter being destroyed so much. With hindsight I should have stopped to take a picture for you.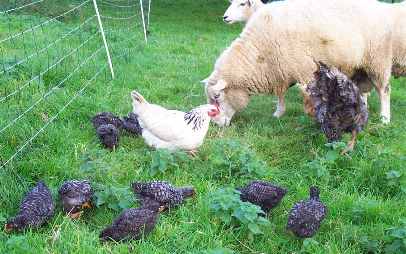 I haven't taken pictures today, so here is one from 3 weeks ago. Hens and rams grazing among the nettles. This Light Sussex hen sat on 15 eggs, up in the hay stack, hatching 11, and there are 10 survivors. Nine of them wander with her, and she clucks anxiously at them when they venture too far from her. The other one is either roaming with the Light Sussex cock (clearly not his father) or off by himself. Chickens are funny creatures.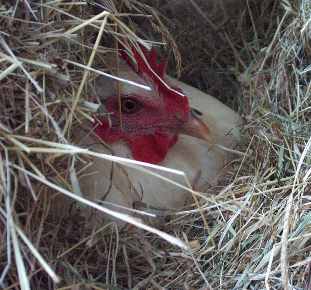 Here she is, back in September, in the nest she made for herself in the hay. Bill was with us, and he looked after her, taking her food and water.
I left Gabriel with Malcolm (a farmer from over the valley, so clean overalls and wellington boots kept here) to move Gussie and Gertie and weigh a sample of the pigs. They were moving some of the sheep too. The pigs weighed between 188 and 208 lbs. One of the boars is totally unaffected by the electric fence, well, not totally. He squeals loudly, but is not deterred from pushing through it all the same. We will try and do something about it tomorrow.
I had a wonderful drive back over the moor as the sun was setting in a blaze of colour. The colours at the moment are so beautiful. Cornwall is at its best outside the normal tourist season. Why does everyone come in August?
Just been reading the transcript of a good speech by David Handley of FFA, on the warmwell site . He speaks very plainly and to the point.