Farm Diary
November 27
Not a day for taking pictures. Wet and miserable, though not very cold. I went to the Launceston farmers market, and bought Neil's sausages, bread, pasties and beef. (you can mail order through the web site of Pomeroy Rare Breed farm ) . Lovely butter, clotted cream, vegetables and eggs. I got milk at the village shop on the way home. I don't like supermarkets.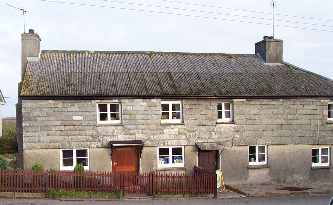 Lezant village shop.
I've had lots of time with Christopher, in between doing other things. I ate both lunch and supper one-handed, with him falling asleep tucked in one arm.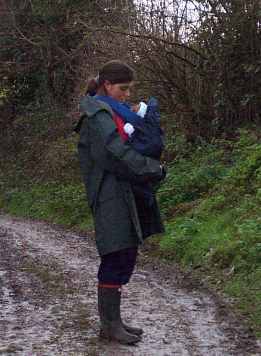 Christopher having his first outing on the farm. He went to sleep in the sling and didn't show much interest!
This afternoon we changed the raddles on the rams from orange to blue. All but one or two of the ewes are marked yellow or orange. I hope that only a handful return and are marked blue. We moved Perky and his group of ewes from Lower Meadow to Tree Field. It's amazing what 2 days of not very heavy rain have done to the ground. I left gabriel to do all the feeding and checking yesterday, so I had not seen the fields since Sunday evening. The cows have turned the lower part of their field, where we have been feeding them, into a morass. Lower Meadow had gone suddenly swampy too. So tomorrow there is more moving to do. the cows will come inside (thank goodness the straw arrived). We'll leave the heifers out with the bull for another week. The vet is coming to PD (pregnancy diagnose) the cows next Wednesday, so it's probably not worth moving the heifers down to the woods with the bullocks yet. We overwinter young stock in the woods, giving them silage. They make a bit of a mess, but it's very sheltered and it saves the fields. James will read this whilst I'm asleep, and email me if I need to do anything different!
We'll move the young boars that are going on Sunday and put them in the pig stye. Neil advised me that they might lose condition outside, as the weather has changed. He's kindly offered to help after he's finished at the Callington market, if we haven't managed before then. A busy day tomorrow again.