Farm Diary
November 18
James went off to Singapore yesterday. He goes 3 or 4 times a year for a fortnight. The work subsidises the farm, as farm incomes have dropped so low. ( A 500 acre farm would have had an income of £80,000, 5 years ago, last year it was £2,500, this year it will have been a loss -- for those of you who don't know, a 500 acre farm represents a capital investment of at least a million pounds, probably more -- so our 120 acre farm is not viable ).
It has been the most glorious autumn. Most of the trees still have their leaves, and some of them are still green. Of the two oak trees that we see from the kitchen, one is a golden brown and the other is green.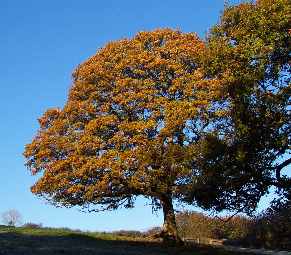 I spent a lot of time on Friday trying to arrange transport for pigs. We have a potential buyer, but they would need to go to Cinderford in Gloucestershire. So far, I have been quoted £250 and £300. If we send 15 pigs, that will take the profit from 8 - 10 of them (I'm not allowing anything for labour, of course, just the cost of the organic feed). It's ironic, as there is a shortage of organic pigs from England. The supermarkets are not worried as they simply import from abroad.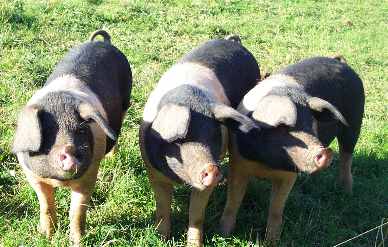 Three of the 6 gilts. They can be kept a bit longer, but the young boars are reaching maturity and will have to go soon.
Keeping pigs on our small scale might well prove impossibly uneconomic, mainly because of the distance to the abbattoir and the cost of transport. Transport costs have tripled with the new Government regulations.
We have a young Swiss volunteer, Gabriel, staying with us. He arrived by bicycle towards the end of August. He is helping on the farm, and working hard on our vegetable garden.