Farm Diary
November 26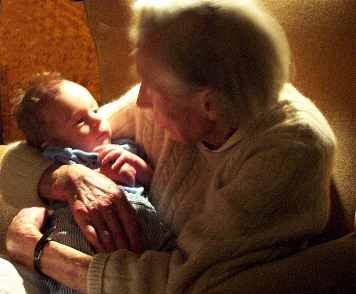 90 years between them. Christopher (5 weeks old) with James's mother.
Mary arrived this afternoon. I've spent quite a bit of time with Christopher in my arms. He was not quite asleep at supper time, so I ended up eating my food with a fork in one hand whilst holding him tucked in my other arm, something I haven't done since Will was a baby. I won't write much as I might be woken in the night!
It's been a day of wonderful clouds, brilliant light, and occassional very cold showers. I haven't done anything on the farm myself today. Gabriel said it was very beautiful in Tree field when he was feeding the bullocks and the mist in the valley was swirling up around them.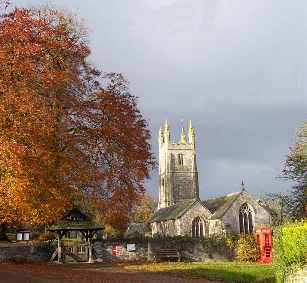 Lezant Church, spotlit against black clouds.
I spoke to the owner of Andrew the bull, today. He's been with us for much longer than we have needed. The 21 day standstill rule means that when he goes home nothing can move off his farm for 21 days. First his owner had some lambs to get off, now he has sold some heifers to a farm that has to have its sheep blood tested before they can take them. He hopes that will all be sorted in less than 2 weeks. Maybe it will take longer than the 21 days, in which case he could have gone now. If we get wet weather and have to bring the cows in (we never usually have them out so long - a good thing since straw is so expensive), we don't have anywhere secure to bring Andrew in and he won't be happy left out on his own. Difficult.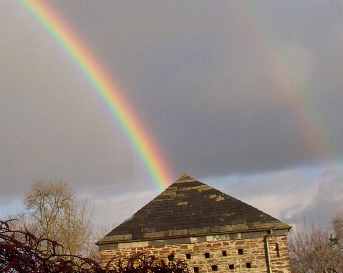 Double rainbow over the Barn.