Farm Diary
November 25
I woke with a start this morning at 9.00 . I can't remember when I last slept so late. Gabriel had overslept too. It was a bit of a shock too, to find it was raining. We've got so used to the dry weather, we've been spoilt. It's still very mild though. Everything was rather a rush, then, as I had promised to take some of our Barn visitors to church with me. I fed the cows, the sows and gilts, and Sam and his ewes and left the rest to Gabriel. Managed to get to church just as the priest arrived.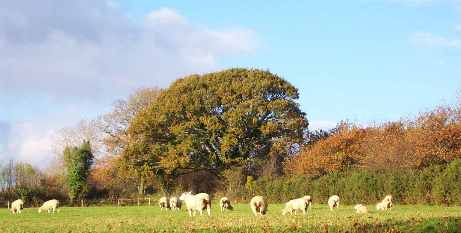 Sam and his ewes in Plat, yesterday.
Then we were kindly taken out to lunch at the Royal, at Horsebridge, by our visitors. It's a short drive from here, over a stone bridge built in 1437, and just inside Devon. I had never seen it so busy (but we've never been there for Sunday lunch before - make sure you book if going on a Sunday). We had a good lunch. Gabriel went off to do the rounds on his own. He didn't come back, and it was dark and getting late. I was beginning to worry, with the wet grass the quad might have slipped and turned over if he was not being careful. I started to drive out in the land rover and he came back. He had been canoeing in the dark on the pond. Here is a picture of William canoeing with the dogs in October last year. (I don't have one of Gabriel).
Gabriel is cooking supper while I write this, as I'm determined not to go to bed late tonight.